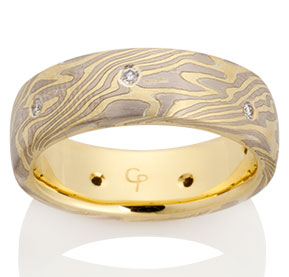 Product Code: MG-OAK-Y5S-DIA
Metals: 18k yellow, palladium 500, silver, diamonds
Measurements: 6mm
Oak pattern mokume ring with alternating layers of 18k yellow gold, palladium 500, and silver, etched to enhance contrast. Lined in 18k yellow gold, slightly rounded profile (shown) or flat profile, comfort fit interior. With flush set diamonds.
Product Inquiry
Interested in this piece? We would love to hear from you. Please fill out this form and we will get in touch with you shortly.
Save
Save